Bronco Sport Models
Base
Starting at $34,999
Est. L/100km 9.3 City 8.4 Hwy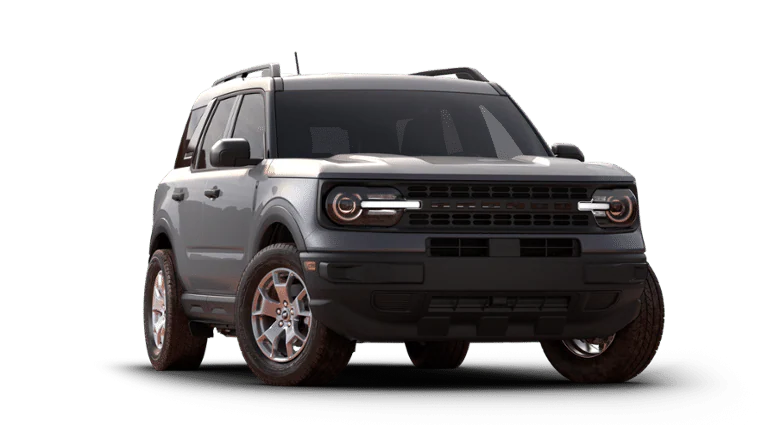 Big Bend
Starting at $37,649
Est. L/100km 9.3 City 8.4 Hwy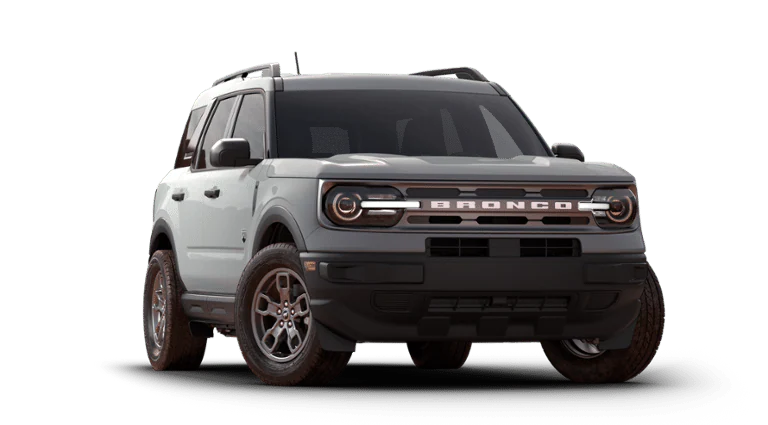 Outer Banks
Starting at $41,699
Est. L/100km 9.3 City 8.4 Hwy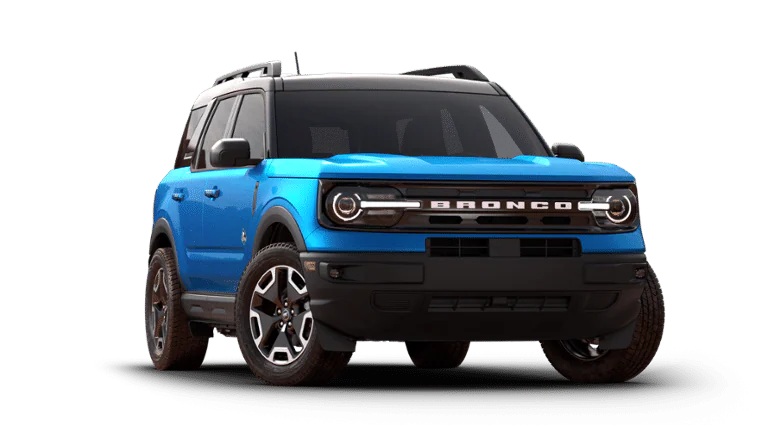 Badlands
Starting at $45,249
Est. L/100km 11.1 City 9.0 Hwy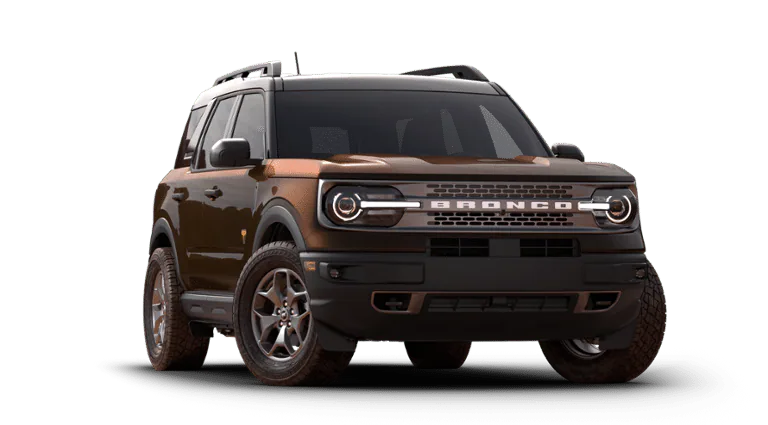 An SUV built for the thrill-seeker, the sightseer and the day-tripper. To enable your journey into the outdoors, this rugged build puts utility in the foreground with a purposeful design that includes available easy-to-clean surfaces and a ton of interior space thanks to the roomy architecture of the Safari-Style Roof. And with standard 4×4 capability, G.O.A.T. Modes (Goes Over Any Type of Terrain) and a H.O.S.S. Suspension System, Bronco Sport is your gateway to the great outdoors.
Optional equipment shown with available Ford Accessories. Recreational equipment not included. Always consult the Owner's Manual before off-road driving, know your terrain and trail difficulty, and use appropriate safety gear. Ford is committed to the preservation of the environment and treading lightly. Bronco® Sport Badlands shown.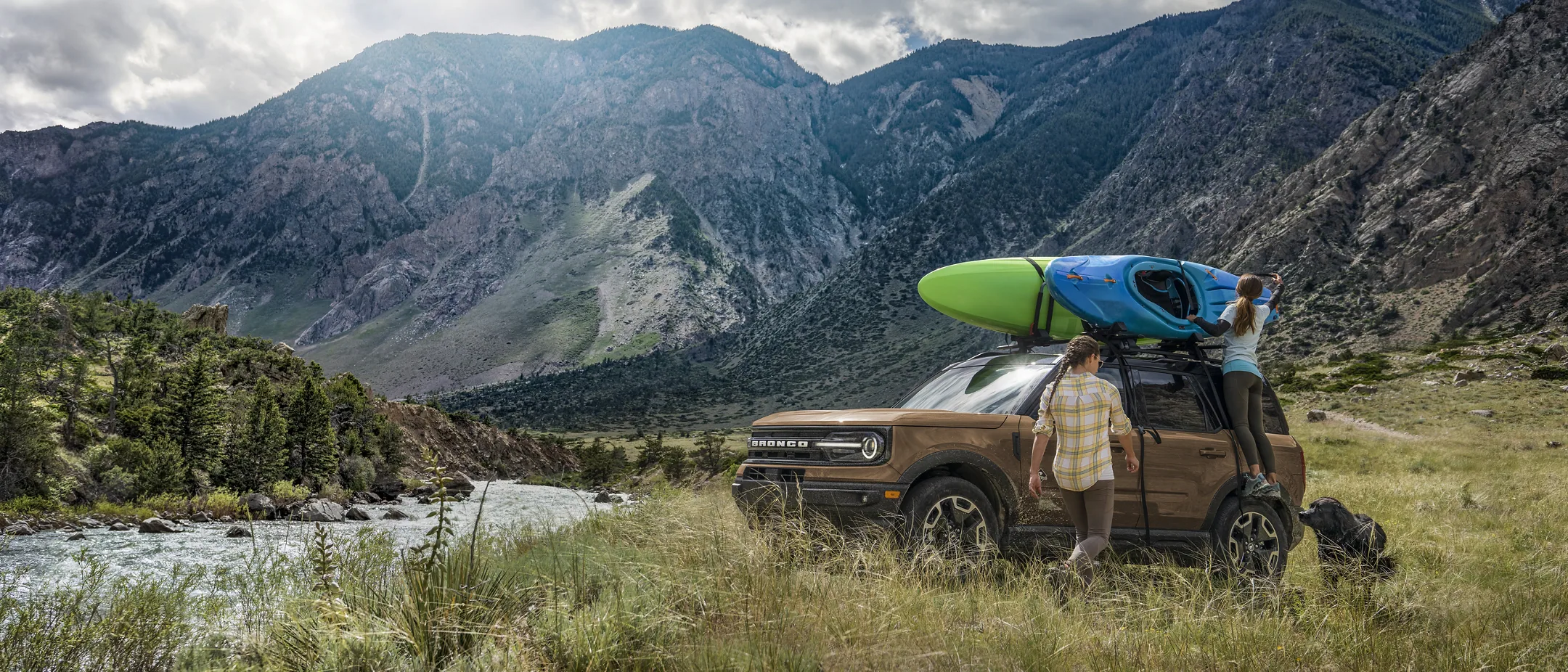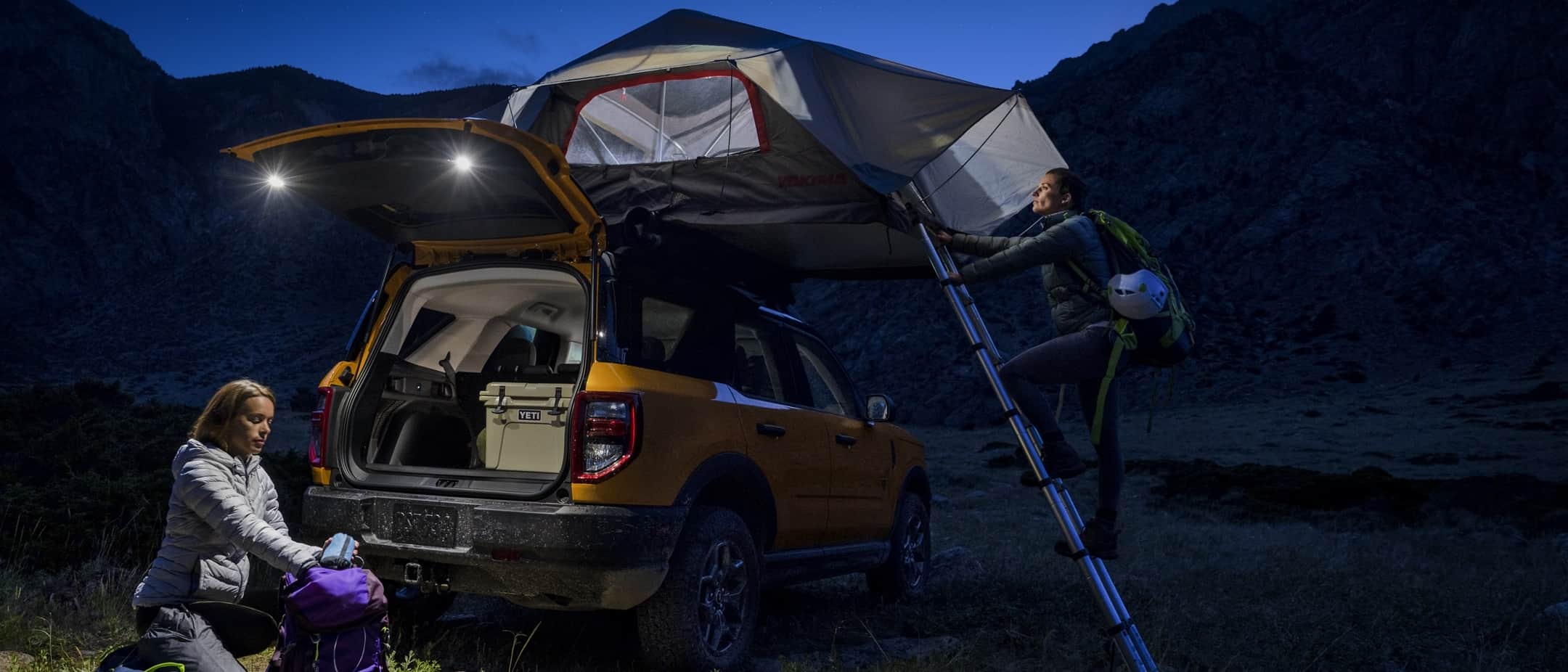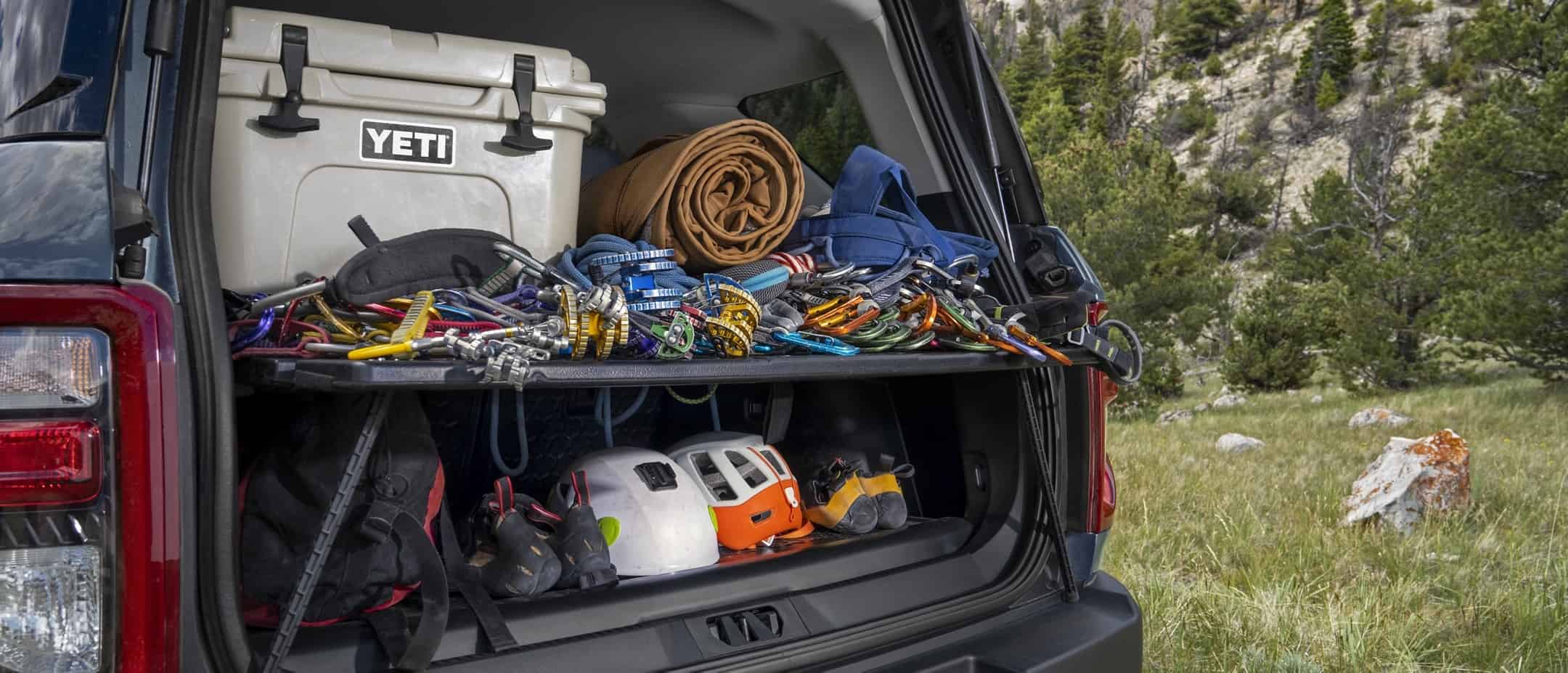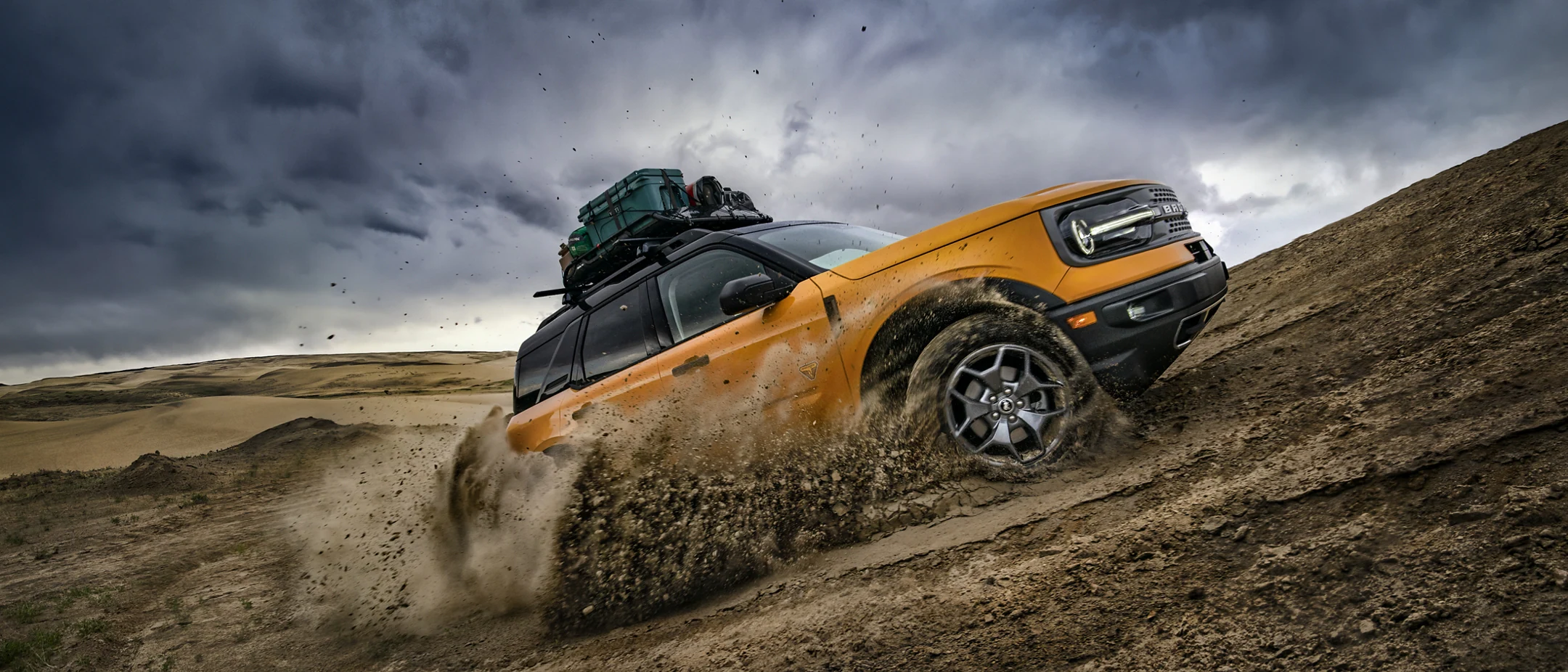 Kick Up Dust
Take the path less travelled, even if there's debris, dirt and muck in the way. The combination of 4×4 capability, available off-road-tuned underpinnings and proficient vehicle dynamics will power you through the trails.
Free to Wander
With a Bronco Sport Badlands model that harnesses an available 8.8″ of ground clearance, unsurpassed approach, and departure angles and an available 23.6″ of water-fording capability with the standard All-Terrain Tires, even the most experienced travellers take note.
Travel with Ease
The extra height provided by the Safari-Style Roof means more space for your stuff and lots of head room for tall friends. The Safari-Style Roof even gives you enough cargo room to fit two bikes standing up. On top, the roof-rack structure for Bronco Sport can handle up to 150 lbs. with the standard roof.
Bronco Sport Gallery
See what the wild has in store.
U.S. Model Shown.
A Bronco Sport for Every Adventurer
Calling all travellers, explorers and the wild at heart everywhere. Bronco Sport offers four available models to match the way you experience the outdoors.
Base
The Base Model for an Authentic Bronco Sport Experience.
Big Bend
The Utility Model with Enhanced Technology and Convenient Features.
Outer Banks
The Comfort Model with Refined Styling and Capability.
Badlands
The Capability Model for Off-Road Adventures.
Take On the Off-Road
Bronco Sport is more than capable — it's a blast. Each model comes standard with 4×4 capability, G.O.A.T. Modes (Goes Over Any Type of Terrain) and a H.O.S.S. suspension system.
Always consult the Owner's Manual before off-road driving. Know your terrain and trail difficulty and use appropriate safety gear. Ford is committed to the preservation of the environment and treading lightly.
Advanced 4×4 with Twin-Clutch Rear Drive Unit
Standard on the Bronco Sport Badlands model, the Advanced 4×4 system with a Twin-Clutch Rear drive unit adds to the power and performance of your Bronco Sport, offering impressive traction and grip – perfect for pushing your limits off-road.
H.O.S.S. Suspension System
Every Bronco Sport has a High-Performance, Off-Road, Stability, Suspension (H.O.S.S.) System – tested in the wild and optimized to help drivers maintain vehicle composure while aggressively taking on rugged terrain. The Badlands system is highlighted by Uniquely Tuned Front Struts with Hydraulic Rebound Stops designed to provide a quieter, less jarring off-road experience. In addition, 46-mm-diameter Monotube Rear Shocks provide improved response and more comfort off-road, while Softer Springs and Anti-Roll Bars provide greater articulation over obstacles.
G.O.A.T Modes (Goes Over Any Type of Terrain)
Adjust your drive mode to match the environment. The Ford Bronco Sport features five standard G.O.A.T Modes (Goes Over Any Type of Terrain): Sand, Slippery, Sport, Eco and Normal. The ever-capable Badlands model comes with two additional modes: Mud/Ruts and Rock Crawl. Ford Bronco Sport Badlands shown.
Off-Road Durability
When the going gets tough, Bronco Sport barely notices. Included on Bronco Sport Badlands, Metal Bash Plates protect the underbody of your vehicle when you're heading into the wilderness. The addition of available 235/65R17 All-Terrain Off-Road tires brings you even more confidence as you take on the rocks and rough patches. And even with all that, Badlands still comes standard with heavy-duty Front Tow Hooks, because sometimes even the most experienced explorers need a boost.
Water-Fording
The 2022 Bronco Sport isn't one to shy away from a challenge. When you've got available 23.6″ of water- fording capability and the soul of a Bronco, the path to adventure is bound to be a fun one.
Standard 4×4
Standard across the Bronco Sport lineup, 4×4 capability will help you battle the elements on your epic adventures to-be. The system disperses power to all four wheels to help add traction and minimize wheel slip when the going gets tough.
Built Wild
Bronco Sport shares a common thread with its adventure-ready kin, engineered with bold looks and a strapping build to get you deep into the wilderness.
Heritage-Inspired Design
The woodland creatures watch in awe when a Bronco Sport drives by. This adapted design goes headfirst into the wild with a One-Piece Grille and Two Round Headlamps, bisected with perfect geometry by a Bar sporting the Bronco name. And it's strong all the way around, squared off with Peaked Front Fenders, a Flat Bodyside, Contrast-Colour Roof and a simple One-Piece Taillamp at the rear.
Approach and Departure Angles
The higher you go, the better the view. The Bronco Sport Badlands model can transition from flat ground to steep inclines and vice versa while comfortably maneuvering on a 30.4-degree approach angle and 33.1- degree departure angle when equipped with available 235/65R17 All-Terrain Off-Road tires.
Roof-Rack Capacity
On the move, the Bronco Sport roof-rack structure can handle up to a 150-lb. dynamic load with the standard steel roof. In order to avoid pesky critters, the high load capacity also lets you elevate your campsite, holding up to a 600-lb. static load.
Flip-Up Rear Glass

The Flip-Up Rear Glass gives you easy access to cargo, so you can grab a water from the cooler or your paddle from the back without the hassle of unpacking.
An Interior Built for the Outdoors
With an interior as tough as the land it traverses, Bronco Sport lives for the dirt, dust, and mud. It's home base wherever you set up camp, and when you're on the move, it doesn't mind carrying all the gear.
Cargo Volume
For Base, Big Bend and Outer Banks, a cargo volume of 65.2 cu.ft. behind the first row helps make packing painless. It gives you plenty of room for the cooler, the backpacks and the rest of your equipment without having to force anything in. And with the available Cargo Management System, you can neatly organize it all. The available Rubberized Flooring in the cargo area and Rubberized Rear Seat Backs create an easy cleanup.
Safari-Style Roof
The height provided by the Safari-Style roof means more space for your stuff and lots of headroom for tall friends. There's even enough cargo room to fit two bikes standing up when equipped with the optional interior bike rack. On top, the roof-rack structure of the Bronco Sport can handle up to 150-lbs. while being driving with the standard steel roof.
Versatile Seating Materials
The available rubberized flooring in the cargo area collects all that dirt, snow and pet hair that come from a long hike with your travel companion. For easy cleanup, the rubberized seat back and durable flooring help shield you and your interior from muddy gear and an excited dog shaking off the day's dust. It also helps protect from the wear and tear that come with loading and unloading equipment.
Centre Console and Centre Stack
The Centre Console includes a Rotary Gear Shift Dial, two cupholders and a media bin where you can securely store some of your smaller items. Up front, the Centre Stack is your go-to place for road-trip necessities like the available Heated Front Seats, available Dual-Zone Electronic Automatic Temperature Controls and standard dual USB ports. To add even more convenience, a standard 8″ screen houses your music, available navigation system, and a ton of other connected technology.
Tech for the Trail
Stay connected on the path to adventure with convenient onboard technologies.
Available Q1 wireless charging may not be available with all mobile phones. Bronco Sport Badlands shown
The FordPass App
Meet FordPass, the app that lets you access complimentary remote features including, start/stop and lock/unlock, monitor your fuel level and oil life, and puts Rewards, Roadside Assistance, and more in the palm of your hand.
Standard FordPass Connect (Wi-Fi Hotspot)
FordPass: A Smarter Way to Move. Beyond FordPass App features like contacting your Dealer and Roadside Assistane plus finding parking and comparing fuel prices along your route, activate your standard FordPass Connect modem to:
• Remotely start your vehicle and schedule recurring start times.
• Lock and unlock vehicle remotely.
• Check your approximate odometer reading, fuel level, and distance to empty.
• Locate your parked vehicle.
• Enjoy a Wi-Fi hotspot trial that can connect up to 10 devices at once, up to 50 feet outside the vehicle.
Explore the Great Outdoors
Bronco Sport Badlands model shown.
The 2021 Bronco
There's a whole world out there just waiting to be discovered. To find it, you have to push boundaries, blaze trails, and climb over any terrain in your way. With its relentless toughness and durability, the Ford Bronco was built to carry outdoor enthusiasts to wherever the wilderness calls. Available in two-or four-door models.
Bronco Family
The Bronco Family is vast, with a reach as far as you're willing to take it and a legacy that spans generations. And the tree keeps getting bigger. At its core, a wild spirit takes root, raring to take you outdoors, off-road, and to places you've never gone before. Explore the historic lineage to see where Bronco has gone, and where it's taking you next.